Yes, I said "leveraging." It's not enough for nonprofits – of any size – just to use social media. You must leverage nonprofit social media for maximum impact. 
But what exactly does that mean?
At Grand River Agency, we understand the vital role social media plays in advancing your nonprofit organization's mission. In today's digital landscape, social media is essential for so many wonderful reasons. We also recognize that smaller nonprofits often face challenges due to limited time, staff, resources, and expertise to handle all aspects of digital media marketing effectively. That's where we come in to help you navigate the world of nonprofit social media marketing and build a strategy that works.
It's often a first touchpoint for others encountering your nonprofit brand – from the individuals and systems you serve to the donors and grant funders who support your mission. Nonprofit social media is on the front lines of building awareness, promoting programs, leading conversations, calling for action, appealing to donors and celebrating impact.
Leveraging Your Nonprofit Status for the Most Effective Digital Marketing Strategy
You have at your disposal so many tools and resources not available to individuals and for-profit businesses.
Exclusive Nonprofit Social Media Marketing Tools
As a nonprofit organization, you have access to a range of tools and resources that can grab a legitimate digital marketing edge. For instance, only nonprofit organizations can take advantage of $10,000 A MONTH in FREE Google Ads. (Look into it. You'll be glad you did!)
You can receive services, support and perks across a variety of platforms – JUST BECAUSE YOU'RE A NONPROFIT! By enrolling as a charitable organization, you can access free or reduced software memberships, digital advertising options, and ample social media training opportunities. Social media platforms like Facebook, Instagram, YouTube, TikTok, and Pinterest offer special features for nonprofits, such as "donate" buttons and fundraising tools, technical support, and production resources.
Don't overlook free training opportunities offered to nonprofits by pretty much any platform. Don't just go out there and "wing it." Learn the best practices, tools, skills and expert insights to guide your posting.
Let's supercharge your nonprofit's online presence and fundraising potential. (Here's a more comprehensive list of nonprofit social media resources.)
The Right Content Experience (For the Right People, at the Right Time)
Knowing your target audience is crucial for successful social media marketing. This can be tougher for nonprofits. Many for-profit businesses can target a single demographic of consumers most likely to, well, consume. But nonprofits must appeal to mission recipients and mission supporters alike. (As our good friend, nonprofit fundraising guru Joanne Oppelt would say, "Money follows mission.")
If you want money to build your mission, you NEED money to get there. So many nonprofits have misguided fundraising strategies that handcuff themselves into campaign failure..
The obvious prescription is a social media presence that appeals to the donors, grantors and philanthropists who support your cause financially – by becoming storytellers of impact for the people and systems you serve.
Social media allows for storytelling at your fingertips. Heck, you can even use your smartphone to shoot videos, take pictures and write content that showcases your mission in action. Highlight stories of individuals whose lives have transformed by your initiatives. Inspire potential donors and humanize your organization's impact.
Choosing the Right Social Media Platforms
Selecting the right social media realms is crucial for reaching your target audience. But what are the most effective platforms for nonprofit social media?
Instead of trying to be on every platform, focus on those aligning best with your nonprofit cause and resonate with your audience.
Facebook and Twitter are popular digital homes to communicate nonprofit missions. But platforms like Instagram and even TikTok have emerged as even more suitable for visually engaging and trendy missions. If your target donors are professionals, LinkedIn remains the standard for outreach that educates prospective donors and allows them to envision themselves as a key supporter.
Don't be afraid to experiment!
Creating a Content Calendar
Consistency is key on social media. By creating a content calendar, you can plan and schedule posts strategically. You must post regularly – the ideal definition of "regularly" varies by platform.
Your content calendar doesn't have to be complicated. A simple Excel spreadsheet or Google Sheet will do. Use the calendar to strategize relevant and timely campaigns, organize your posts across platforms, and include a mix of content types, such as blog posts, infographics and videos. Highlight upcoming events, fundraising campaigns, societal issues, and third-party wisdom related to your cause.
Be flexible and willing to adjust. Social media is a great place to receive instant feedback on what's working and what's not. If people aren't engaging, it's not working.
Communing With Your Audience
Don't talk at your audience. Discuss your mission with them. Commune with them. Remember that social media is a two-way conversation.
While you seek to share your message, take the time to listen and respond to your audience. Engaging in dialogues with your followers helps build relationships and creates a loyal community of supporters. This online community amplifies your message to back your charitable cause.
Respond to comments and messages promptly, and use polls and surveys to gather insights from your audience. People love being heard! Analyze social media metrics to understand your followers' engagement and preferences. (Here are 16 key social media metrics you need to track in 2023.)
Optimize your strategy accordingly.
Collaborating with Other Nonprofits & Influencers
Collaboration is a powerful strategy on social media. Partnering with other nonprofits allows you to share resources and reach a wider audience. Collaborate on events, co-create content, and cross-promote each other's initiatives.
Reach out to influencers with an interest in your nonprofit cause. They can provide a significant boost in credibility and exposure. Influencers with large followings can help introduce your nonprofit to new audiences interested in your mission.
Even Small Nonprofits Can Achieve So Much on Social Media
At Grand River Agency, we know even small nonprofits can achieve significant impact on social media. We've mentored and facilitated digital marketing success for organizations serving a variety of awesome community missions!
It's an entire digital toolbelt to directly connect with your target audiences, showcase your mission's impact, and rally support. With the right nonprofit social media strategy, your nonprofit can make a big splash and thrive in the digital age.
If you need help, don't hesitate to reach out for a FREE CONSULTATION!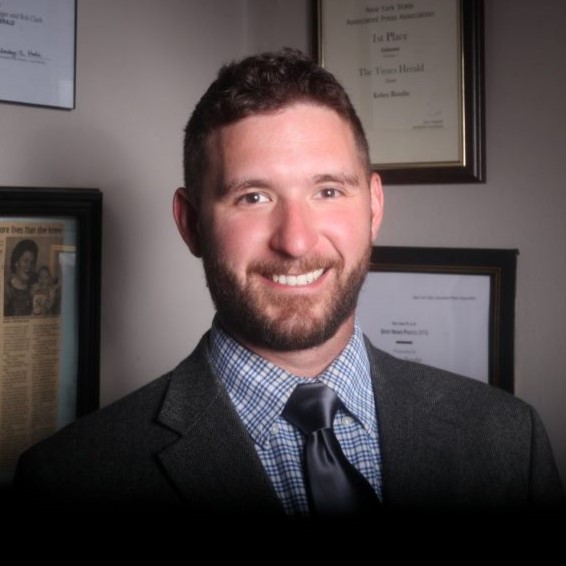 President and Founder, Grand River Agency
With over 17 years of diverse experience in print journalism, digital media marketing, and nonprofit administration, Kelsey Boudin founded Grand River Agency (formerly Southern Tier Communications Strategies) in 2020. The agency specializes in offering contract-based strategic communications, content marketing, grant proposals, website design, and public relations services to small businesses and nonprofits. Kelsey's career spans roles as an editor, content creator, and grant writer, reflecting his expertise in leading successful digital marketing campaigns, securing funding, and executing various projects.