We live in a world where storytelling smacks us at every turn. Yet, as human beings (for the most part), we hardly even notice most of it. It's ubiquitous. 
Most comes in the form of advertising. Forbes estimates people now take in up to 10,000 ads a day in every form and medium possible.
Colors
Fonts
Logos
A 15-second spot on the radio during your ride into work
The podcast you listen to at the gym
This blog
The list goes on.
How much of this storytelling do we generally remember? That's up for interpretation. Nielsen says some the half-life for recalling ads can be 24 hours – or a week. There are so many variables. Colors, fonts and smells from your favorite pizza place lodge in the back of your head, awaiting a random craving, while the substance of the ad itself fades to blackness. Longer-form digital marketing content that serves our personal or professional enlightenment can be quite memorable.
Both are effective for distinct reasons. They tell a story. They arouse memories, senses and emotions to drive action. They also inform and educate to drive action.
Expert storytelling is critical in ABSOLUTELY EVERY INDUSTRY, especially for the small nonprofits and businesses we serve here at Grand River Agency. Why? Because our specialty is in AMPLIFYING their professional storytelling – from website design to blogging to podcasts and everything in between – to stand out against big brands with MASSIVE budgets.
The Evolution of Storytelling: From Cavemen to Corporations
A few years back, I wrote a blog on caveman storytelling. You probably already get the gist. Just as our ancestors gathered around campfires to share tales of caution and hope, today's organizations must harness the power of storytelling to build brands, connect with audiences and drive action.
Your organization's brand is a story – well crafted and well told. The ability to craft compelling narratives is arguably the most critical catalyst for success. Unfortunately, professional storytelling is often overlooked and very rarely invested in fully.
Why Expert Storytelling Matters – Especially Today
Remember those 10,000 ads a day? You must cut through that noise. Somehow.
Attention spans have dwindled as we've become bombarded by information from all directions, most notably the devices at our fingertips. Thus, capturing and holding their attention on those devices is increasingly challenging. Expert storytelling these days is an exercise in extreme precision. Done right, it stands out to the people you serve and creates meaningful connections.
Building Brands & Establishing Trust
In a world crowded with similar products and services, brands must scramble to stand out. Expert storytelling gives brands the power to showcase their unique identity, values and purpose.
Through compelling narratives, companies can humanize their brands, making them more relatable and memorable. Marketing today requires more tact than brazen self-promotion. You must weave an HONEST and HELPFUL storyline through your marketing efforts to foster loyalty and trust.
Inspiring Action & Driving Engagement
Professional storytelling inspires action. A marketing story – a social media post, blog, white paper, etc. – goes nowhere without that call to action. Even if that call to action is only to read more or sign up for the monthly newsletter.
Expertly crafted stories move people emotionally, prompting them to take the next step – whether it's becoming a customer, supporting a cause or joining a movement. In the digital age, storytelling is at the core of successful marketing campaigns, engaging audiences and sparking conversations that lead to conversions.
Strengthening Connection with Customers & Clients
Customers don't just want products or services. They want (crave) meaningful experiences and relationships. After all, don't you want your target audience(s) to feel comfortable and confident in their decision to opt for your goods and/or services?
Storytelling allows businesses and organizations to connect on a deeper level, showing that they understand their clients' needs and aspirations. And in this understanding is an underlying promise of fulfillment. It says, "Our brand is committed to you and solving your pain points." Sharing customer success stories or testimonials strengthens the bond, demonstrating real-life impact and building further trust.
Amplifying Nonprofit Impact & Garnering Support
Marketing isn't only a money grab for big business (and small businesses aiming to become big businesses). Nonprofit marketing can take place in many of the same channels to appeal to prospective donors, grant funders and individuals/communities served. In a very interesting way, a nonprofit marketing campaign – let's say, via social media – can attract both supporters and folks who would benefit from its services.
Talk about two birds with one stone, right?!
The individuals/systems served gain confidence in your mission as something they need, while funding sources gain confidence in your ability to reach wide audiences and deliver. By showcasing the human side of their work through stories of those whose lives have been improved, nonprofits ignite a desire to contribute and make a difference.
Establishing Thought Leadership & Expertise
In so many industries today, expertise and thought leadership are highly sought after. Thought leadership is such a powerful driver for decision-making. People, especially in the B2B realm, are always looking for an EXPERT.
Professional storytelling enables organizations and business leaders to position themselves as authorities in their fields, sharing valuable insights and knowledge. By providing meaningful content that educates and informs, you can attract potential clients and nurture lasting partnerships.
Navigating the Digital Landscape
With the digital landscape constantly evolving, expert storytelling is essential for businesses to remain relevant and competitive. Social media, blogs, websites, podcasts, email marketing, and other digital platforms provide vast opportunities to share narratives and reach wider audiences.
A cohesive and well-executed storytelling strategy ensures you effectively convey messages across multiple channels. Those channels must be chosen carefully and exclusively on where their specific audiences "live" in the digital realm.
The Role of Expert Storytelling Consultants
While storytelling is a powerful tool, mastering it requires skill, strategy and creativity. It requires time. It requires effort. Sometimes it requires more than what you, as a C-level executive, could possibly contribute. Hiring a full-time marketing-communications staff – or even just one staff member – can be cost prohibitive for small organizations with limited budgets.
(The average marketing director salary in the US is $183,000 annually. You'd be better served to contract with a marketing agency for all the benefits of a full-time marketing staff for a fraction of the cost.)
Many organizations, especially small businesses and nonprofits, may not have the resources or expertise to develop effective storytelling campaigns. This is where expert storytelling consultants come into play.
Professionals like us are well-versed in crafting narratives that resonate with specific audiences in the digital realm. We have a deep understanding of how to structure compelling stories that evoke emotions, drive action and align with organizational goals.
Embrace the Power of Expert Storytelling for Your Organization
Storytelling has transcended time, remaining a fundamental aspect of human communication. It's rooted in human nature – a tradition and an art form that has evolved over tens of thousands of years, adapting through various mediums and technologies.
While our ancestors shared stories through oral traditions, modern storytelling leverages the written word, images, videos, and social media to reach global audiences instantly. In that light, it drives global commerce and cooperation.
Embrace the power of storytelling and let your organization's unique story unfold, captivating hearts and minds in the modern era. How can we help you?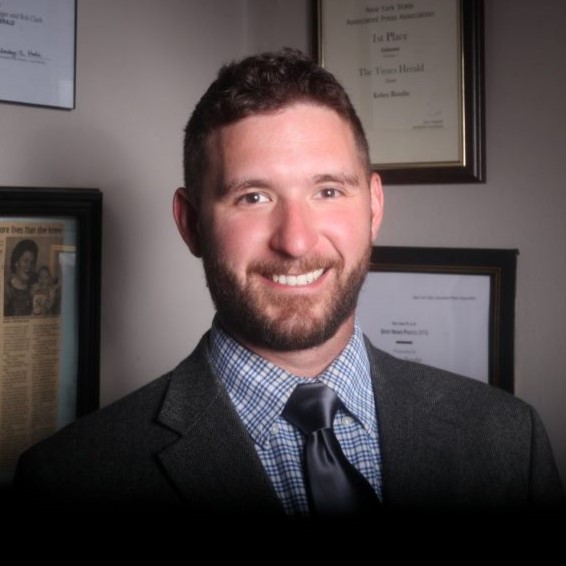 President and Founder, Grand River Agency
With over 17 years of diverse experience in print journalism, digital media marketing, and nonprofit administration, Kelsey Boudin founded Grand River Agency (formerly Southern Tier Communications Strategies) in 2020. The agency specializes in offering contract-based strategic communications, content marketing, grant proposals, website design, and public relations services to small businesses and nonprofits. Kelsey's career spans roles as an editor, content creator, and grant writer, reflecting his expertise in leading successful digital marketing campaigns, securing funding, and executing various projects.