Grand River Agency began coordinating social media marketing for the National Association of Nonprofit Organizations & Executives (NANOE) just a few short months ago. After some outstanding results beyond anyone's best expectations, we're proud and thankful to be tabbed NANOE's preferred nonprofit social media marketing vendor.
Humbled may actually be the operative term – but we take this announcement as a call to action and as evidence Grand River Agency's work as nonprofit communications experts has only just begun. NANOE approached us in late spring on a recommendation from a world-renowned nonprofit fundraising expert after our exceptional work to promote her Nonprofit Star Quest virtual training event in March. 
The task was immense. We began managing more than a dozen of NANOE's social media platforms and promoting content across many different channels offering guidance to hundreds of thousands of nonprofit leaders worldwide. The scope grew to include short-form video marketing, book launches, training events and other forums for nonprofit community engagement.
The success was profound – almost immediately as the analytics made it crystal clear NANOE's digital storytelling was AMPLIFIED exponentially by effectively leveraging social media marketing. Any time you're looking at analytics showing improvements in engagement by over 1,400%, that's a BIG win!
A Devoted Partner in Nonprofit Social Media Marketing & Community Outreach
This collaboration with NANOE is a testament to our commitment to expertly crafting social media content. We empower charitable organizations to STAND OUT in today's increasingly complex digital landscape.
In a world where countless digital marketing vendors promise remarkable results through cookie-cutter strategies, Grand River Agency stands apart by simplifying and streamlining typically complex nonprofit marketing tasks. The result? MAXIMUM return on investment. Nonprofits ultimately aim for all tactics to funnel toward high ROI fundraising. Producing quantities of quality digital marketing content is a key cog in that wheel.
Professional marketing capacity should be accessible to all nonprofits, regardless of their size or budget constraints. Small nonprofits with important community missions are just as deserving of the limelight. We're happy to facilitate that for a fraction of the expense of a professional salary.
Here are just a few of the benefits of contracting with NANOE's preferred nonprofit social media marketing vendor.
Adaptability & Growth: Imperative for Nonprofits
In the dynamic realm of nonprofit communications, adaptability and growth are not mere ideals; they are prerequisites for success. Shockingly, over 50% of nonprofits lack a digital marketing strategy of any kind. That's an eye-popping statistic we aim to change for YOUR organization.
For nonprofits, especially those operating on tight budgets, hiring a full-time digital media staff member is dramatically cost-prohibitive. The median annual salary for a social media marketing manager in the U.S has now eclipsed SIX FIGURES! That's where Grand River Agency comes in, offering the power of journalistic storytelling via social media at a very friendly rate.
The Power of Social Media Marketing Based in Great Journalism
Wait, journalism? Aren't journalism and marketing supposed to be separate? Not at all! Digital marketing and journalism are both based in outstanding journalistic storytelling. Presenting facts. Allowing readers, viewers and listeners to assess the reality and make decisions.
"We All Have a Story to Tell. Let's Tell It Well." This is the philosophy that underpins our approach at Grand River Agency. Our team comprises former journalists who specialize in promoting the nonprofit sector and community-oriented missions. We understand the power of storytelling and its pivotal role in great digital marketing.
Crafting effective digital marketing strategies is a daunting task for many organizations. It's a lot like nonprofit fundraising, where it can be very difficult to hit the mark if your priorities are askew. (Remember, nonprofit friends: DONORS are your customers!) Strong community outreach and fundraising go hand-in-hand. We firmly believe in the power of nonprofit branding, and social media marketing is a potent catalyst for the good your nonprofit delivers to your communities.
Attention-Grabbing Storytelling for Charitable Initiatives
Charitable initiatives demand attention. When supported – and funded – to their fullest capacity, nonprofit missions truly transform lives and serve communities left entirely unserved by the private and governmental sectors.
Our commitment is to provide robust communications capacity that can powerfully promote your mission – as it truly deserves.
Your Bridge to Nonprofit Social Media Marketing Success
Grand River Agency proudly embraces the role of NANOE's social media marketing vendor of choice. We urge nonprofits not to fall into the category of those without a social media marketing strategy. Moreover, we recognize that even fewer have a strategic plan and fundraising blueprint for long-term sustainability, and our friends at NANOE and Major Gifts Ramp-Up are here to offer support in those areas.
Based in Olean, NY, Grand River Agency bridges the gap by offering visionary opportunities to excel in nonprofit social media — a critical investment in capacity building and growth previously only accessible to BIG BUDGET organizations.
Reach out to GRA President and Founder Kelsey Boudin to explore how we can make a significant impact together. Don't hesitate to contact us for help!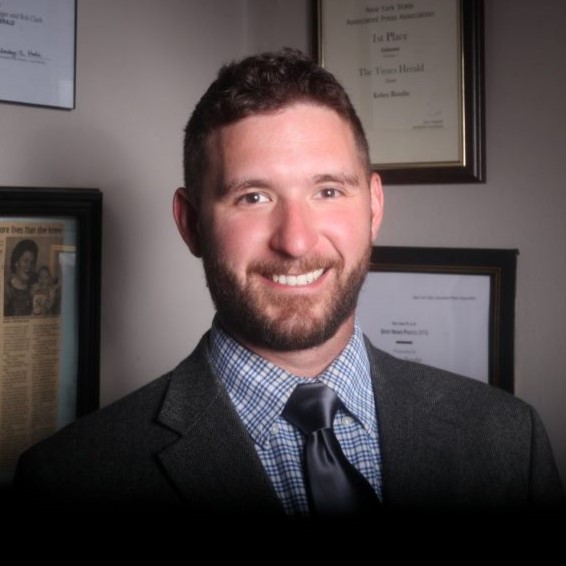 President and Founder, Grand River Agency
With over 17 years of diverse experience in print journalism, digital media marketing, and nonprofit administration, Kelsey Boudin founded Grand River Agency (formerly Southern Tier Communications Strategies) in 2020. The agency specializes in offering contract-based strategic communications, content marketing, grant proposals, website design, and public relations services to small businesses and nonprofits. Kelsey's career spans roles as an editor, content creator, and grant writer, reflecting his expertise in leading successful digital marketing campaigns, securing funding, and executing various projects.