POW-ER-FUL! Yes, that's the word for artificial intelligence in strategic communications (or stratcomm, a broad field that encompasses any sort of professional outreach via any medium). AI is like a superhero sidekick that can create content at lightning speed, generate brilliant ideas, and boost your efficiency like never before. 
But, hold on, before crowning AI as the magical solution to all your writing and content-production needs, let's have a heart-to-heart about the critical role of the human touch in this digital adventure.
It's astonishing to plug in a content idea and watch AI spew out hundreds of words in just seconds for your digital marketing blog, social media presence, grant proposal or whatever. Notice I said "spew," as the resulting content is merely a regurgitation of algorithms scrambling to follow your prompts by scanning what already exists in the digital realm.
But ask yourself:
Is it actually well-written?
Is it search-engine optimized?
Is it accurate?
Is it written for your audience?
We've found that artificial intelligence for content production is a great starting point for strategic communications. Nothing more. It still needs the human touch to truly resonate with target audiences and to achieve digital benefits. Artificial intelligence certainly can mimic specific writing voices, summarize a series of details with logical and linguistic fidelity, and do so quickly.
But it lacks in the following areas.
Artificial Intelligence in Strategic Communications Lacks the Human Touch
At Grand River Agency, we love AI and have been experimenting with its potential since day one. Don't get me wrong! It's a lifesaver as we prioritize creating volumes of content for small nonprofits and businesses. We use it daily, and if you're not on board, you're already 10 steps behind the curve!
But, as I said, it's merely a place to get started. AI-generated content still needs human guidance.
AI is a content creation powerhouse, no doubt about it. The sheer volume of content it produces, the ideas it generates, and the efficiency it brings are awe-inspiring. But, my friend, there's more to content marketing than just producing words on a page.
Mindful & Impactful Storytelling
Artificial intelligence generates content at breakneck speed, but mindful and impactful storytelling is where the human touch reigns supreme. Your goal as a content creator – for whatever purpose – is to be the most impactful storyteller possible. You're gathering content consumers around your fire to be an industry thought leader, to offer solutions, and to profess your brand as THE LEADING PROBLEM-SOLVER. 
Emotion, nuance, and empathy in storytelling captivate readers and forge deep connections. AI can't replicate the human ability to create content that resonates with your audience on such a personal level.
AI doesn't know your story. It doesn't know the people, systems and industries you serve. It can't venture a guess regarding the personal stories and tales of triumph (or failure, for perspective) which demonstrate your organization's expertise. Artificial intelligence for strategic communications can't prophesy your distinct industry's trends and daily narratives.
Quality & Optimization
Sure, AI can churn out content at a rapid pace, but quality and optimization for digital performance can suffer. Human writers know how to craft content that not only ranks well in search engines, but also delivers real value to your audience.
Once again, AI gets you only part of the way there as a content creator. For instance, AI can toss out any number of SEO longtail keywords, but it couldn't advise the search volume and difficulty of ranking. For that and other optimization matters, you need definitive tools like Semrush or HubSpot. 
Context & Tone
Your brand's voice is its signature, and only humans can ensure it stays authentic and relatable. AI may analyze data, logic and linguistic styles, but it lacks the intuition to understand the context, tone, and unique voice of your brand.
YOUR UNIQUE VOICE.
Only the human touch can adapt content to your audience's preferences and answer their questions effectively.
Creativity & Originality
In a similar light, AI-generated written content still comes across as canned copy. It does its best to match your brand of originality – and come quite close, if "taught" and prompted correctly – it's STILL NOT YOU!
AI might be relatively competent at discerning patterns, but creativity and originality come from the human mind. Unconventional ideas, innovative thinking and fresh perspectives are what set your content apart in the crowded digital marketing landscape and nonprofit fundraising realms your organization calls home.
Authenticity & Credibility
Building trust and credibility with your audience requires authenticity – and that's where the human touch shines. AI-generated content can feel formulaic and generic, lacking the authenticity that readers crave. Humans bring their personalities and expertise, trying to instill credibility in every word they write.
AI in strat-comm is just as likely, if not more, to make a mistake than a human. That's because its algorithms scan the internet for existing content and fill in the blanks with random, inaccurate points. (Sometimes it just makes up something for the sake of filling space.)
Want to lose credibility? Let too many mistakes like that slip through the cracks. Your audience counts you to be that "thought leader" we keep discussing – to help them solve problems. Little dings in your credibility will eventually sink your strategic communications ship.
Flexibility & Adaptability
Strat-comm isn't static; it's a dynamic journey. Humans possess the adaptability to pivot strategies, experiment, and respond to real-time changes. AI, on the other hand, follows preset algorithms, limiting its ability to adapt to evolving content needs.
As AI improves, it'll always follow logic and trends gathered from human activity. In a sense, it'll always be a step behind what it needs to operate: humans.
Emotional Connection
Connecting with your audience on an emotional level is the holy grail of content marketing. Humans understand the intricacies of human experiences and can craft stories that resonate deeply.
Our ability to understand the human experience through empathy – knowing what "that feels like" – allows us to tell stories that offer perspective and guidance. AI can't replicate that level of emotional connection. People will subscribe, purchase and commit to your brand only when they know and trust it.
AI is Our Friend, But Communications Cherishes the Human Touch
At Grand River Agency, we believe in embracing AI's power while cherishing the human touch. AI can be your creative superhero, but it needs human emotion, understanding, and optimization to truly evolve into effective storytelling THAT DRIVES RESULTS.

You see, it's a tool – a tool that a builds our capacity to produce exponential volumes content for the great industries we serve. Get ahold of me, if you'd like to see how it works!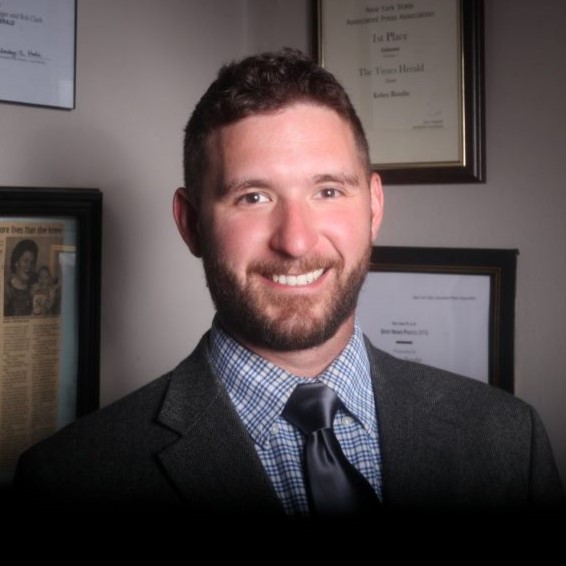 President and Founder, Grand River Agency
With over 17 years of diverse experience in print journalism, digital media marketing, and nonprofit administration, Kelsey Boudin founded Grand River Agency (formerly Southern Tier Communications Strategies) in 2020. The agency specializes in offering contract-based strategic communications, content marketing, grant proposals, website design, and public relations services to small businesses and nonprofits. Kelsey's career spans roles as an editor, content creator, and grant writer, reflecting his expertise in leading successful digital marketing campaigns, securing funding, and executing various projects.