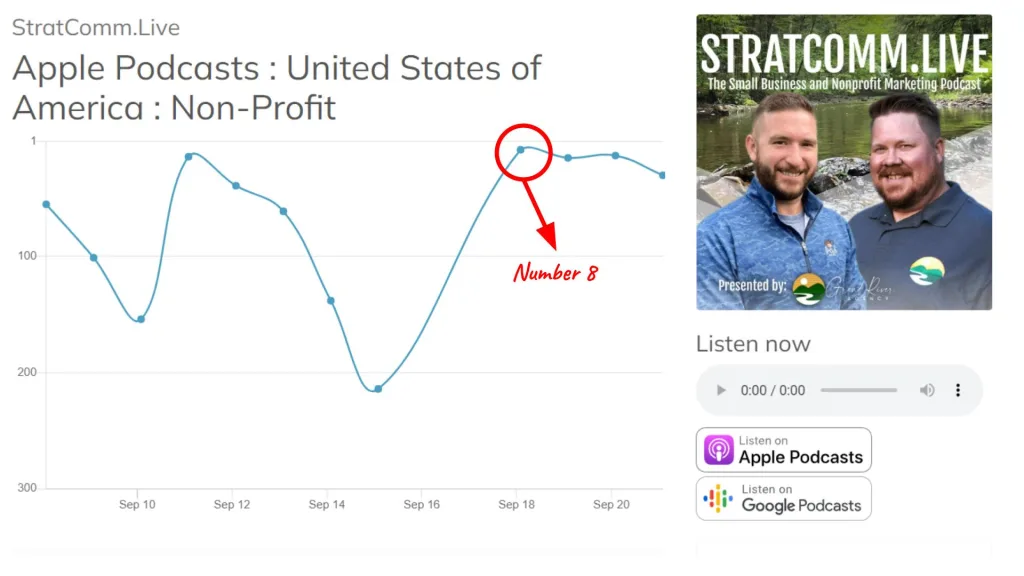 Many of you know that we recently launched our marketing podcast for small business and nonprofit. The response from our new audience at StratComm.Live has been remarkable!
Thanks to all of our listeners, almost immediately after launching we shot to the Top 8 in the Nonprofit category of Apple Podcasts in our very first week! This electrifying achievement places us shoulder-to-shoulder with INDUSTRY GIANTS in the nonprofit realm. This demonstrates a surging interest in strategic communications for small nonprofits and businesses. Small businesses and nonprofits are hungry for expert guidance and insights in the intricate domains of leadership, marketing and fundraising.
If you haven't tuned in yet, the time is now! Open your preferred podcast app, enter "StratComm.Live" in the search bar, and hit that subscribe button to ensure you stay abreast of the latest episodes featuring our dynamic hosts, Kelsey and Josh!
Listen to StratComm.Live Now:
New Episodes Weekly
Weekly Doses of Nonprofit and Small Business Marketing Insights Every Monday: We deliver engaging discussions on the nuanced worlds of small business and nonprofit marketing and leadership. We also include a lot of fun stories and laughs between Kelsey Boudin (the Founder and President of Grand River Agency and Executive Director at Strength Solutions), and Josh Hatcher (the Vice President of Success at Grand River Agency).


Insightful Interviews
Our podcast lineup includes enlightening interviews with thought leaders and experts in the realms of digital marketing, public relations, nonprofit leadership, fundraising, small business administration, and much more!
Meet Kelsey Boudin & Josh Hatcher
Kelsey and Josh boast a combined wealth of experience in journalism, marketing and nonprofit fundraising that spans decades. Kelsey's proficiency as a gifted writer and Josh's expertise in graphic design and video production have coalesced to form an unstoppable force in the realm of digital marketing. Their mission is clear: to empower small nonprofits and businesses, providing them with the tools and knowledge they need to thrive in a digital age, even if they lack the resources for a dedicated in-house team.
We invite you into our world, where we aim to engage, amuse and equip you with the skills needed to effectively convey your message to the right audience.
What's on the Horizon for StratComm.Live?
Mark your calendars for an incredibly helpful upcoming episode featuring Nonprofit MoneyMaker, Author, Trainer, and Growth Consultant, Joanne Oppelt! Join us this coming Monday for a powerful conversation that promises to illuminate new avenues for success.
As we dominate the podcast charts and continue to provide valuable insights for small businesses and nonprofits, we are thrilled to have you accompany us on this journey.
Leading and marketing your small business or nonprofit organization can be fiercely competitive and sometimes even confusing. (Dare we say, confounding?) We're here to help you crack the code.
Don't miss out on the opportunity to learn from industry luminaries and partake in meaningful dialog. Subscribe to StratComm.Live today! Together, let's elevate your marketing and leadership prowess to new heights. We're here to help you succeed.